Home School Students – Sign Up!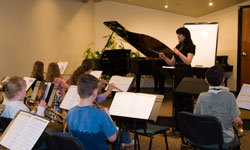 All Home School Students are welcome to join our program here at Beacock Music!
We are currently partnered with Home Choice Academy, Virtual Academy, and Home Link in Battle Ground. 
Please contact these organizations to sign up for classes. Please print and fill out the Beacock Music Registration Form and bring into Beacock Music. Without this form we will be unable to guarantee your child a slot in our program!! If you are a traditional Home School Student you may sign up through Beacock Music. Please contact the Education Center at (360)694-7134 or e-mail at edcenter@beacockmusic.com or michele@beacockmusic.com.   
If you are interested in second to fourth year classes, students may sign up at anytime during the school year. Please call the Education Center to arrange an evaluation with one of our instructors for a placement in a class. 
Where are the Home School classes held?
All classes are held on site at Beacock Music. We have a beautiful, professional facility on our upper level. Please feel free to come in and have a tour and sit in on classes. Please call the Education Center if you are interested! 
When are classes held?
Classes are held Tuesday, Wednesday and Friday. Please see the schedule for class dates and times. Classes run from the first week in October until May. Please see the calendar for school year schedule and Recital dates. 
What is the cost?
Tuition rates vary based upon the organization with which you are affiliated. If you are a Home School student and just want to take lessons through our program, the tuition is $35.00 per month plus rental of instrument. Tuition is paid monthly and billed to either a credit or debit card on the 25th of each month for the following month. No refunds are given if students drop mid-way through the year. 
We plan and run our classes based on students who register in the fall.  Classes are a year long commitment. If a class is closed, we can put your name on a waiting list.