Beacock Music New Horizons Band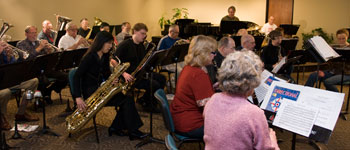 Playing in a band or orchestra might be something you have always wanted to do, but you simply found the notion to be a bit intimidating or you might have thought that you couldn't do it. Nothing could be further from the truth. The New Horizons Program was started just for those people who may have missed learning how to play an instrument back in their school years, and now they regret it. It is also for those people who played back in school, but have then spent many years building careers and raising families.  
No matter what your circumstances, the New Horizons concept of making music provides a non-intimidating environment for you to begin or to resume. It offers you the chance to play the instrument you have always dreamed about and to progress at your own rate. The only expectations will be those that you place on yourself. As Dr. Ernst, the founder of the program says, "Your best is good enough." 
Members from many backgrounds…
You will find that the people who join New Horizons groups are from varied backgrounds, but they all share one thing in common – their love of music. Being active in music has been shown to have very positive effects on people's emotional and physical well-being. Many new friendships are formed when people join New Horizons groups, and the group lessons, rehearsals and concerts become very important parts of their lives
Questions & Answers about the New Horizons Band 
Question:  How did New Horizons Music get started? 
Answer:    The idea of senior adults playing music was developed by Dr. Roy Ernst of the Eastman School of Music. He envisioned that many adults, as they approached and entered retirement, would be interested in making music in a group setting, but might not have the skills or confidence to get started.  
Question:  How are New Horizons Music programs different from other music programs? 
Answer:    New Horizons Music programs provide entry points to music making for adults, including those with no musical experience at all and those who were active in school music programs but have been inactive for a long period. A New Horizons Music program should be inclusive rather than exclusive. There are no auditions. Every person has musical potential that can be developed to a level that will be personally rewarding.  
Question:  Who sponsors New Horizons Music programs?
Answer:   The Vancouver, Washington New Horizons Band is sponsored by Beacock Music Company. 
Question:  I would like to join a New Horizons group, but I don't think I have any musical talent. No one else in my family has ever done anything in music. People say that I'm "tone deaf." Can I really do this? 
Answer:    Professor Roy Ernst says that EVERYONE has musical talent. "In more than 40 years of teaching, I've never found anyone who couldn't learn music." If no one in your family makes music, you would become a great example for them by starting.  
Question:  I'm not 50 yet. Can I join? 
Answer:    Absolutely! The program originally was targeted for people 50 and over, however, many groups now open their membership to adults of any age. This is essentially a decision that is made at the local level. There is no hard and fast rule.  
Question:  How do I know what instrument I should play? 
Answer:    Your preference is the most important factor and the starting point. If you love the look and sound of a trombone, for example, you should start with that. Check with your conductor or teacher to see if you have any physical conditions that could be a problem. It's rare when that is the case. If your heart isn't set on a certain instrument, ask your conductor or teacher what the band or orchestra needs. You will be even more important if you play an instrument that fills a special need.  
Question:  How do I get an instrument? 
Answer:    You can rent a good instrument in good condition at a modest cost from Beacock Music. If you change your mind about what instrument you want, Beacock Music will make an exchange for you. The most important thing is to get a good instrument in good condition. Some people become frustrated if they try to play an instrument that no one could play. If you have an instrument in the attic or if you find one at a garage sale, allow our repair technicians to examine your instrument, and give you a free estimate on any repairs that may be necessary.
Dale Beacock 

May 1, 1930 ~ August 4, 2011 
Founder of the Beacock Music New Horizons Band
Dale Beacock had over 40 years of teaching experience, specializing in band instruments.  He taught in the Vancouver Public Schools and Clark College, as well as private lesson instruction.
He was a sought after adjudicator in the area, and had an extensive background in jazz music as well.  Dale held a masters degree in music performance and education from the University of Portland.  
"Dale had a great sense of humor and saw the best in everyone. We don't know how to continue on without him."
Mr. Beacock will be missed.