Pet Food and Supply Drive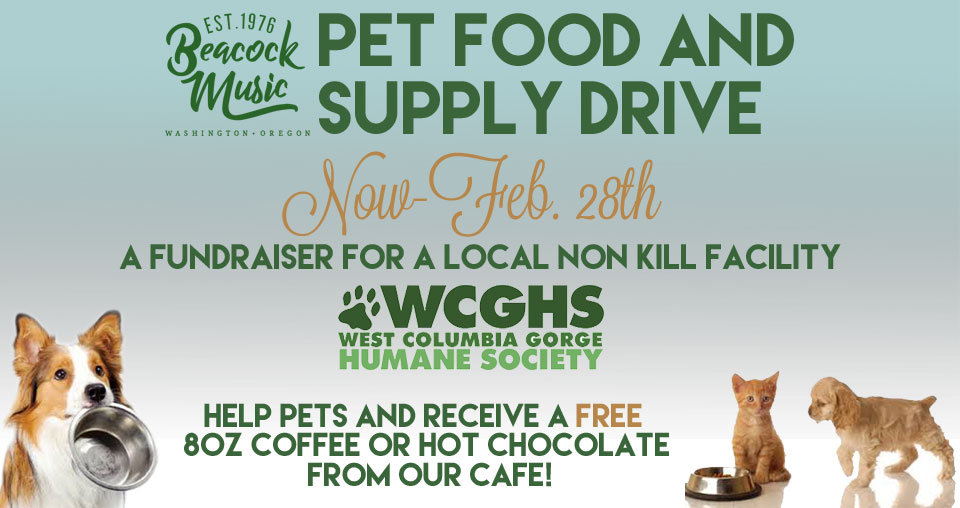 Now through February 28th
WCGHS needs funds to refit a used modular into a working cat shelter. They're currently being housed offsite while waiting for the funding.
As a thank you for your donation, please enjoy an 8oz latte or hot chocolate in our Cafe!
Beacock Music is hosting a month long pet supply drive for the West Columbia Gorge Humane Society. Bring donations directly to Beacock Music at 1420 S.E. 163rd Ave. in East Vancouver, any time from 9 am to 8 pm Monday through Friday, 9 am to 6 pm on Saturdays, and from 11 am to 6 pm on Sundays. With your donation of pet food, supplies, or cash you can receive a complimentary coffee or hot chocolate from our Cafe!

The West Columbia Gorge Humane Society is no-kill, non-profit shelter facility for any animal taken in for care and focused on bettering the lives of both pets and their people in our community.
Cash donations and gift cards are welcome as well as the following items from their wishlist:
DOGS
• Dog or puppy food dry
• Dog or puppy food wet
• Dogs chew toys (Nylabone or Benebone are favorites)
• Quality dog or puppy treats
CATS
• Cat or kitten food dry
• Cat or kitten food wet
• Any cat toy welcomed
SHELTER NEEDS
• Arm & Hammer Liquid Laundry Detergent
• Paper Towels
Thank you!