Hang out in your local music store!
Our Standing Ovation Cafe is a full service coffee shop featuring STUMPTOWN COFFEE! Located in our flagship location in Vancouver, Washington, the Standing Ovation Cafe has several different seating options- including a chair that has been in the newspaper for how comfortable it is that people fall asleep!
Running late and didn't have time to stop for lunch? Need a place to relax during your children's music lessons?
The Standing Ovation Café offers our customers the perfect place to grab a quick bite or unwind with your favorite latte or tea.
It's also a great place to reward your children after working so hard on their lessons!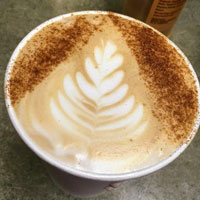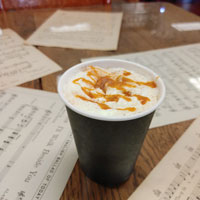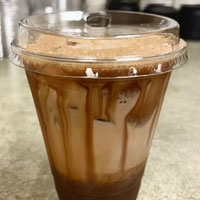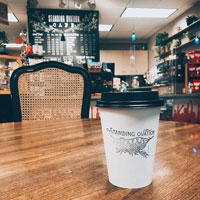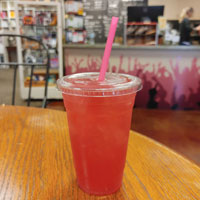 Coffee and Non Coffee Menu
Hot drinks are available in 8oz, 12oz, 16oz, and 20oz with most espresso drinks having two shots in each size and iced drinks are available in 12oz, 16oz, and 20oz.
Espresso
Double shot of espresso.
House Coffee
Stumptown drip coffee made fresh! The blends that we use change weekly.
Americano
Espresso and water available hot or iced. The larger the size, the more shots of espresso we use.
Latte
Two shots of espresso and milk- available hot or iced, with the option to add flavor.
Cappucino
Two shots of espresso and milk- typically served hot with lots of delicious milk foam.
Mocha
Two shots of espresso, milk, and chocolate. Serviced with whipped cream. Available hot or iced.
Mexican Mocha
Two shots of espresso, milk and a spiced chocolate mixture. Available hot or iced.
Cold Brew
Stumptown Cold Brew served over ice with the option for flavor, cream, or milk.
Hot Chocolate
A delicious chocolate mix with steamed milk. Served with fresh whipped cream.
Apple Cider
Crisp and fresh Washington apple cider served hot.
Smoothies
Fruit smoothies available in a variety of flavors (or a combination of flavors).
Italian Soda
A cold mixture of club soda, your choice of flavor (or combination of flavors), cream and fresh whipped cream.
Steamer
Steamed milk and your choice of flavor- or a combination of flavors.
Chai Tea
A blend of black tea chai and Masala spice blend served with milk. Available hot, iced, or blended.
Tea
A selection of caffeinated and non-caffeinated teas. Available hot or iced.
Matcha
packing a smooth and mellow velvety flavour with a distinctive jade colour in your creation
Milk
Got Milk? Yes, we do!
Extras
Add something extra to your drink!
Milk Substitutes
Oat, Soy, Almond, Coconut available.
Add Flavor
Choose one (or more) flavors to add to your coffee or drink.
Blend it!
Almost any coffee or non-coffee drink can also be made blended. If you haven't tried a blended mocha, you haven't lived!
Cooler Drinks
We also have a full cooler full of Coca-Cola branded drinks as well as Snapple, Vitamin Water, Protein Energy Drinks, Red Bull, Monster, Reign, and Yerbas.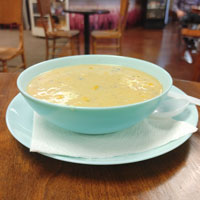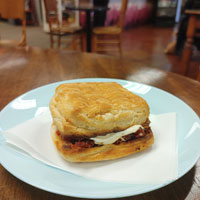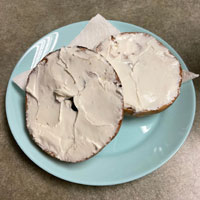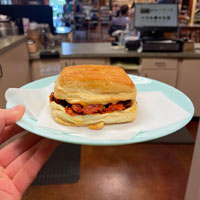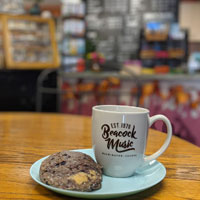 Food Menu
Hang out in the music store and eat breakfast, lunch and dinner with our food selection!
Soup of the Day
The soup changes every day- come in to see what the Soup Du Jour is!
Grilled Cheese
Made with potato bread and Tillamook Cheddar or Pepperjack cheese (or both!)
Seattle's Favorites Bagels
Fresh bagels mixed from scratch using only the finest ingredients and steam-baked.
Muffin Tops
Made from the finest freshest ingredients. Each one is hand-topped for a homemade look. It truly is the best part of the muffin! Bottomless enjoyment!
Cookies
Gourmet, hand-scooped cookies, available in multiple flavors. Gluten free is also available!
Dessert Bars
Made from scratch daily. Even though demand is high, we still take the time to hand-press and hand-top each individual pan.
Hot Sandwiches
Sundried tomato, pesto and mozzarella on a flakey croissant.
Turkey and provolone panini made in-house
Ham and Tillamook cheddar panini made in-house
Grilled cheese made with Tillamook cheddar and potato bread
Check with us for the weekly special
Hot Breakfast Sandwiches
Farm-fresh egg, natural Tillamook cheese, and 65% lean Jonesfarm sausage patty on a plain bagel.
Farm-fresh egg, natural Tillamook cheese, 65% lean Jonesfarm sausage patty, and Hormel bacon on a French toast bagel.
Farm-fresh egg, natural Tillamook cheese and premium sliced ham sandwiched between a plain bagel.
Farm-fresh egg, Hormel bacon and Tillamook cheddar cheese on a fresh English Muffin.
Farm-fresh egg, Hormel Canadian bacon and Tillamook provolone cheese on a fresh buttery croissant.
Snacks
Killa Bites
Meat and Cheese Boxes
Creem Cheese Dip Boxes
String Cheese
Trail Mix
Protein Bars
Clif Bars
Peanuts
Cornnuts
Chips
Popcorners
Candy Bars
Fruit Snacks
Lollipops
Yorks
Truffles
Baristas
Meet the Baristas
Although they don't play any musical instruments, Heather, Stephanie, Sienna, and Bella can sure make a coffee machine sing! They have all been Stumptown certified, and have to attend regular refresher trainings- and it shows! They are the best baristas in the area!
Heather- the Cafe manager- has worked for Beacock Music for 12 years and in addition to running the cafe, she also is responsible for the displays throughout the store!
Stephanie has worked at Beacock Music for six years and does all of the chalk art and large signs throughout the store!
The newest addition to the Cafe, Sienna, has not an anniversary with Beacock Music yet, but she is already making her mark with her delicious coffee and excellent customer service! If you are here in the evenings or weekends, you will also see our part-time barista Bella. Although not here full time, she is a great addition to the team, and makes a mean coffee!