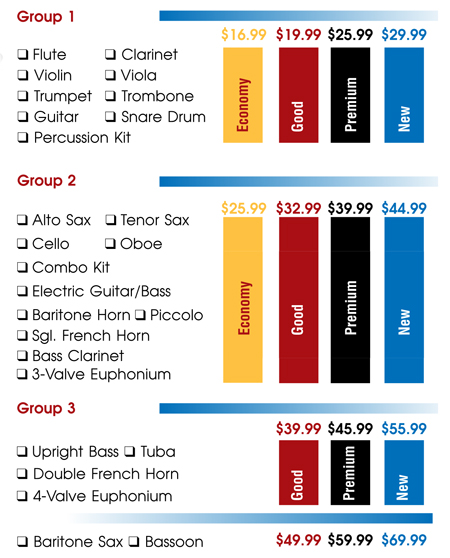 RENTING AN INSTRUMENT
Renting an instrument from Beacock Music is easy! Simply click the link below, create your account or sign in, fill out the following form, pick your accessories and delivery option and you are done! Below are some helpful hints, and if you have any questions, we have a FAQ page that you can read here. Feel free to call or text us at 360-694-7134 or email at [email protected]. Please keep in mind this is for a new instrument rental, if you need an instrument to be exchanged, please fill out that form here.
ORCHESTRA SIZING
If you aren't sure what size orchestra instrument you need, please visit here for a sizing guide.
INSTRUMENT
All instruments are guaranteed "School Approved Instruments" and are in excellent working condition. All instruments are inspected and sanitized by our Repair Department and are player ready.
NEW instruments have never been rented or sold. PREMIUM instruments will look like new, but have been rented previously. GOOD instruments have been rented quite a few times and will start to show some wear cosmetically. ECONOMY instruments will definitely show cosmetic wear, and have been rented previously.
All instruments come with everything you need to start playing right away. The instrument, case, and one reed for reed instruments, oil/grease for brass instruments, a bow and rosin for orchestral instruments, and sticks for percussion instruments.
A NOTE ON PERCUSSION RENTALS
Percussion players can choose between a percussion kit, combined percussion, or snare drum only. The percussion kit includes a small xylophone, stand, practice pad, mallets, and drumsticks. The combined percussion kits includes everything in a percussion kit, plus a snare drum. Snare drum only is only a snare drum and drumsticks. The snare drum only is less common, so please double-check with the band director before renting a snare drum only. If you aren't sure which instrument you need, please contact your band director, or give us a call.